Speaker Series on Al Amal Mission to Mars
10/21/2021 06:30 PM - 08:30 PM MT
Location
Denver Museum of Nature and Science
Denver, CO
Room Number: Ricketson Auditorium

Description
Join WorldDenver and the Denver Museum of Nature & Science as we explore Mars through the lens of the Al Amal (Hope) spacecraft orbiter, which reached the Red Planet on Feb. 9. The historic Mission to Mars was accomplished by an international collaboration between the University of Colorado Boulder's Laboratory for Atmospheric and Space Physics (LASP) who assembled the craft and the United Arab Emirates' Mohammed bin Rashid Space Centre. Live from the Ricketson Auditorium, we'll be joined by scientists and engineers from LASP and a spokesperson from the UAE to discuss their unique global partnership, while viewing incredible footage from the orbiter itself. Events are subject to change based upon federal, state or local health guidance. All sales are final unless the Museum cancels the event.
Reception begins at 6:30 p.m., program starts at 7:00 p.m.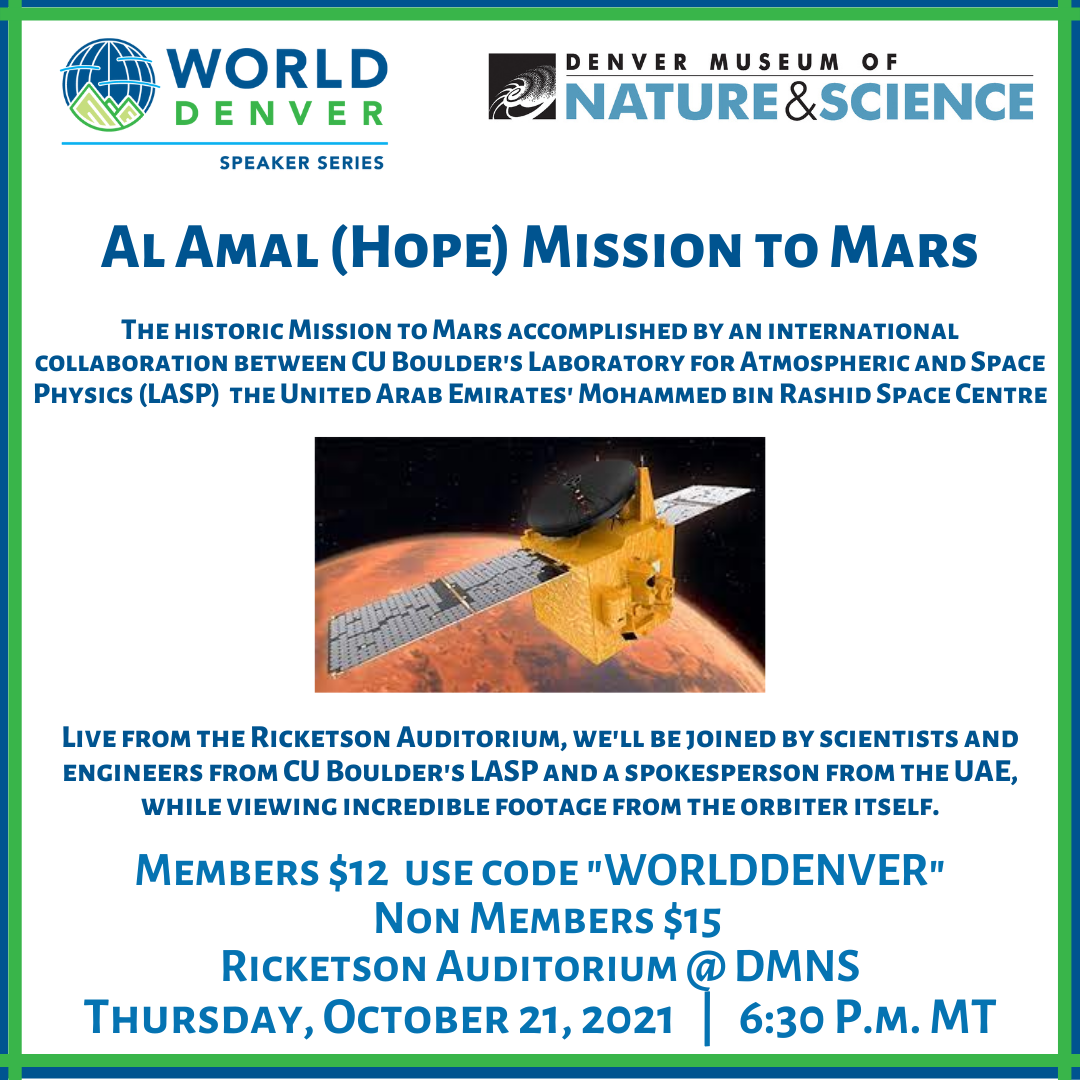 Members of WorldDenver and DMNS: $12, use code: WORLDDENVER
NON-Members: $15
Note: As a nonpartisan convener of global affairs programming, WorldDenver provides an unbiased forum for experts, world leaders, diplomats, and representatives from the public and private sectors to share their expertise and views on a broad spectrum of issues that matter to the world. We aim for our events to inspire curiosity and further reading, discussion, and civic engagement among our members and the Denver community on the global issues that we present.