"The Russia Challenge" with Dr. Fiona Hill - Virtual Recording
03/15/2022 05:30 PM - 07:30 PM MT
Location
Description
This event has sold out! Register here to receive a recording of the event.
Thirty years after the end of the Soviet Union, Russian President Vladimir Putin has taken drastic and costly measures to attempt to rebuild its sphere of influence in the region. Disregarding diplomatic efforts and sanctions from the U.S. and Europe, Russia unleashed an unprovoked invasion of Ukraine. What does Putin want? Where does this crisis go and how can the US and Europe respond? WorldDenver welcomes Dr. Fiona Hill, senior fellow at the Brookings Institution and former senior director for European and Russian affairs on the National Security Council, to discuss the current Russia challenge in conversation with Dr. Rachel Epstein.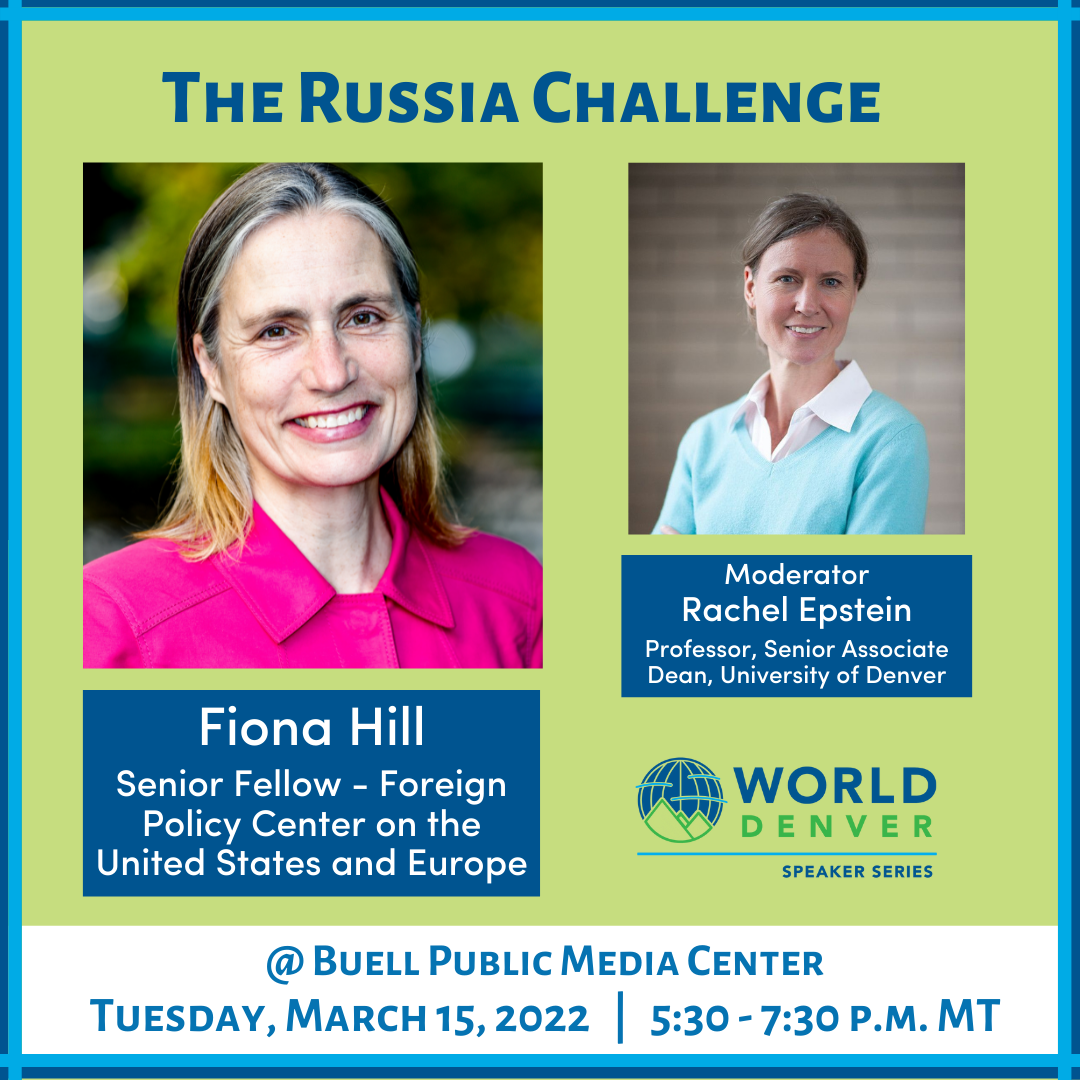 About Our Speaker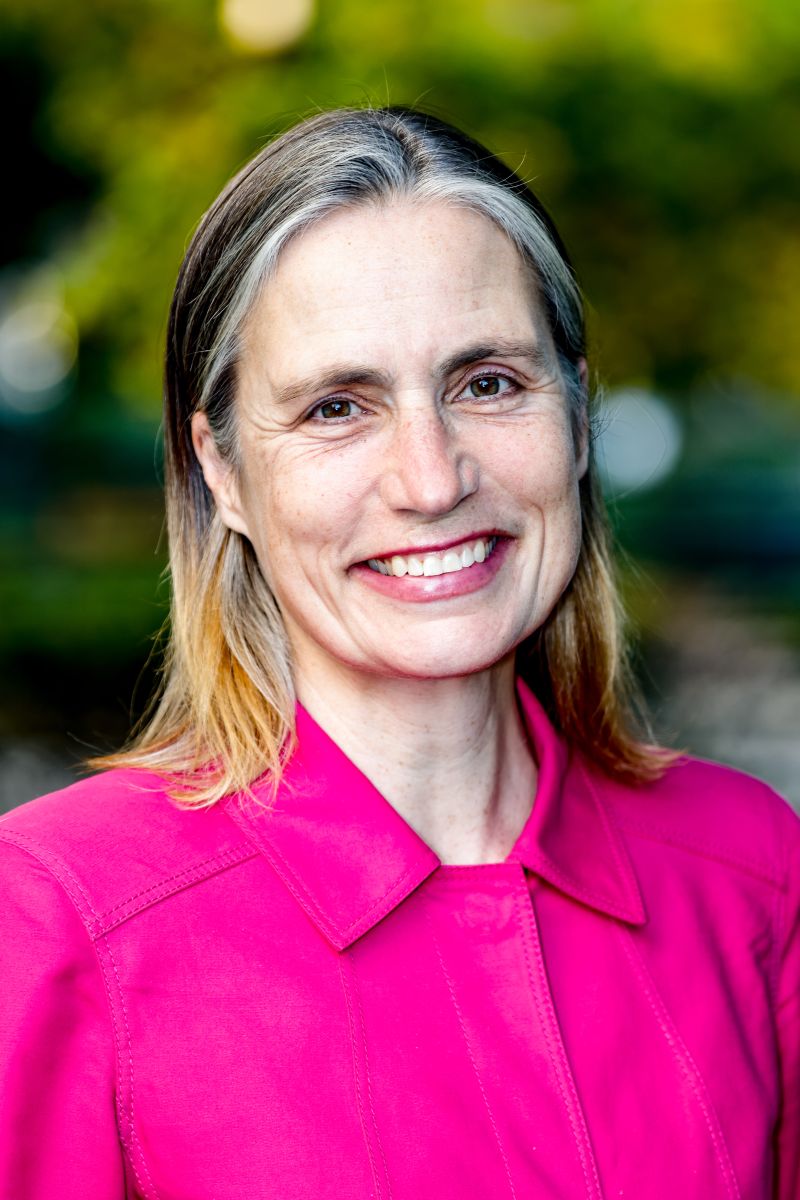 Dr. Fiona Hill
Senior Fellow - Foreign Policy, Center on the United States and Europe
Fiona Hill is a senior fellow in the Center on the United States and Europe in the Foreign Policy program at Brookings. She recently served as deputy assistant to the president and senior director for European and Russian affairs on the National Security Council from 2017 to 2019. From 2006 to 2009, she served as national intelligence officer for Russia and Eurasia at The National Intelligence Council. She is author of "There Is Nothing for You Here: Finding Opportunity in the 21st Century" and co-author of "Mr. Putin: Operative in the Kremlin" (Brookings Institution Press, 2015).
Prior to joining Brookings, Hill was director of strategic planning at The Eurasia Foundation in Washington, D.C. From 1991 to 1999, she held a number of positions directing technical assistance and research projects at Harvard University's John F. Kennedy School of Government, including associate director of the Strengthening Democratic Institutions Project, director of the Project on Ethnic Conflict in the Former Soviet Union, and coordinator of the Trilateral Study on Japanese-Russian-U.S. Relations.
Hill has researched and published extensively on issues related to Russia, the Caucasus, Central Asia, regional conflicts, energy, and strategic issues. Her book with Brookings Senior Fellow Clifford Gaddy,"The Siberian Curse: How Communist Planners Left Russia Out in the Cold," was published by Brookings Institution Press in December 2003, and her monograph, "Energy Empire: Oil, Gas and Russia's Revival," was published by the London Foreign Policy Centre in 2004. The first edition of "Mr. Putin: Operative in the Kremlin" was published by Brookings Institution Press in December 2013, also with Clifford Gaddy.
Hill holds a master's in Soviet studies and a doctorate in history from Harvard University where she was a Frank Knox Fellow. She also holds a master's in Russian and modern history from St. Andrews University in Scotland, and has pursued studies at Moscow's Maurice Thorez Institute of Foreign Languages. Hill is a member of the Council on Foreign Relations.
Affiliations:
Council on Foreign Relations, member
Harvard University, Graduate School Alumni Association Council, member
About Our Moderator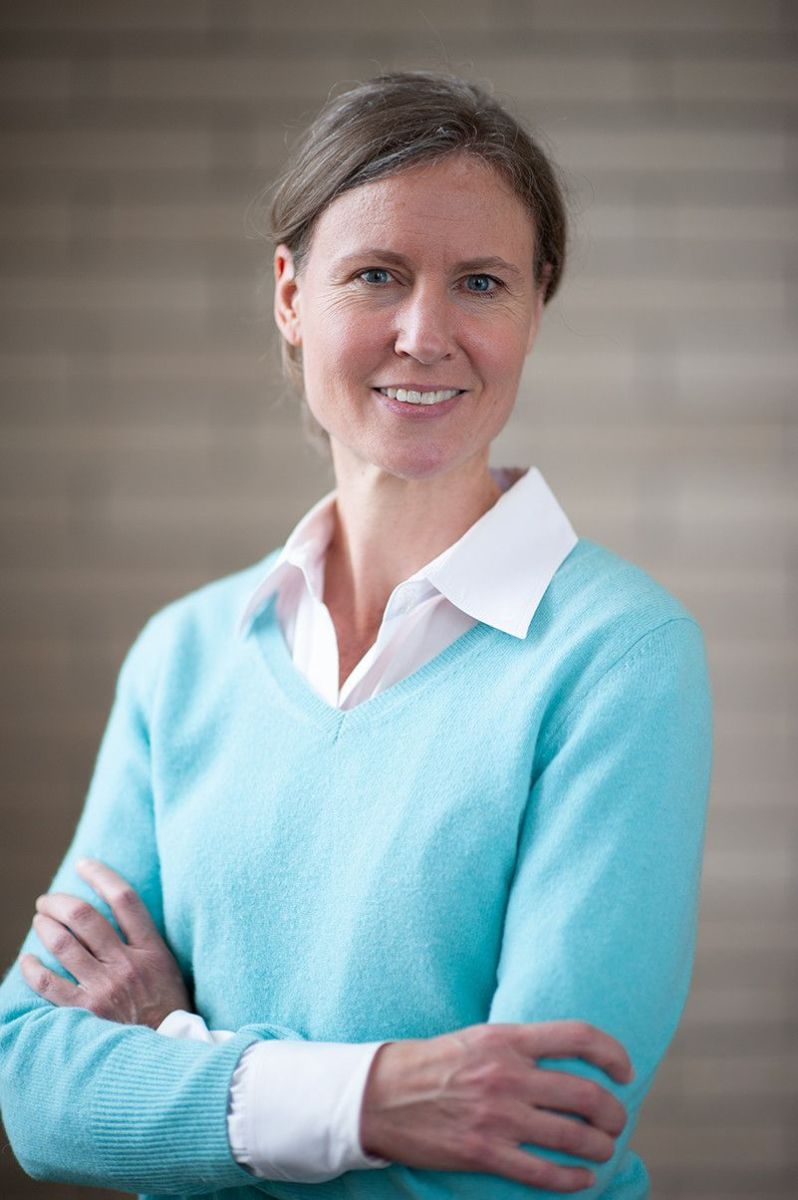 Dr. Rachel Epstein
Professor, Senior Associate Dean, University of Denver
Dr. Rachel Epstein earned her MA and PhD from Cornell University's Department of Government and her AB from Stanford University in International Relations. Her research and teaching have focused on international political economy, international security, and the role of international organizations in eliciting compliance from target states and states-in-transition. Dr. Epstein has published widely on subjects concerning European Union enlargement, the expansion of the North Atlantic Treaty Organization, the developmental prospects of post-communist countries and the politics of finance, financial crisis and foreign bank ownership. She has held two post-doctoral fellowships at the European University Institute in Florence, Italy and was also an Advanced Post-Doctoral Fellow at the Freie Universitaet in Berlin in 2016.
Degree(s)
Ph.D., Government, Cornell University, 2001
MA, Government, Cornell University, 1999
AB, International Relations, Stanford University, 1992
Professional Affiliations
American Political Science Association
European Union Studies Association
International Studies Association
Associatiation for Slavic, East European and Eurasian Studies
Note: As a nonpartisan convener of global affairs programming, WorldDenver provides an unbiased forum for experts, world leaders, diplomats, and representatives from the public and private sectors to share their expertise and views on a broad spectrum of issues that matter to the world. We aim for our events to inspire curiosity and further reading, discussion, and civic engagement among our members and the Denver community on the global issues that we present.