The Binational (US/Mexico) Fresh Water Crisis
03/22/2022 07:30 PM - 09:00 PM MT
Location
Description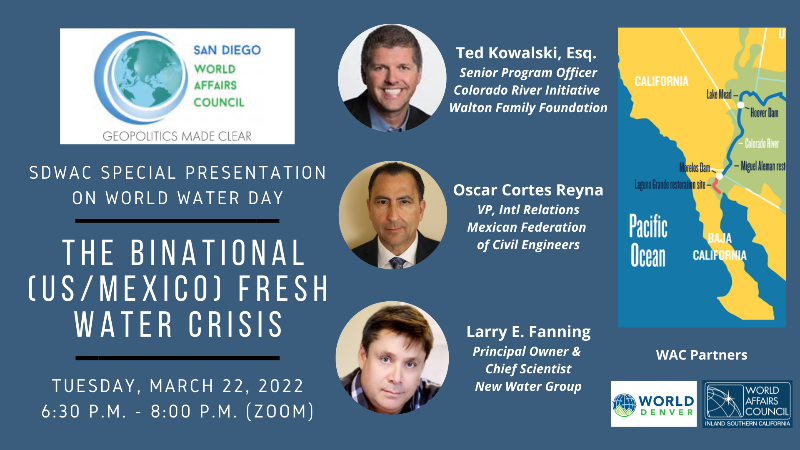 WorldDenver is pleased to partner with the San Diego World Affairs Council to present a special event on World Water Day exploring the crisis surrounding the Colorado River and the crucial steps needed to ensure conservation of this precious resource.
Join the panel discussion to learn about: the extent of the crisis and its adverse consequences; conservation measures needed to put us on a more sustainable path; and programs that can increase the production of fresh water to augment existing supplies in our region. An all-out, comprehensive plan is needed to save the Colorado River -- a freshwater source upon which agriculture, industry and 40 million individuals in both the US and Mexico depend.
Speakers include US and Mexican experts and practitioners dedicated to addressing the freshwater shortage threatening our integrated, binational region.
Larry E. Fanning. Principal Owner & Chief Scientist - New Water Group LL

Ted Kowalski, Esq. Senior Program Officer, Colorado River Initiative - Walton Family Foundation

Oscar Cortes Reyna. VP, International Relations - Mexican Federation of Civil Engineers
Date: Tuesday, March 22nd, 2022 at 7:30pm
Location: Zoom - https://us02web.zoom.us/j/82888196052?pwd=QlZ2UmtYTjlLelRTbExUUXJiaDJNUT09
Tickets: Free!