Putin's War Against Ukraine: Perspectives From Ukrainians of Colorado
04/07/2022 06:00 PM - 07:00 PM MT
Location
Description
Russia's invasion of Ukraine has impacted the lives of Ukrainians all over the world — including Colorado. Ukrainians of Colorado, a 501(c)3 formed in the wake of the Russian assault on Crimea and Donbas in 2014, has worked to galvanize community support for Ukraine, in particular by raising awareness and funds for humanitarian relief. Members Marina Dubrova, Irina Shatalova, Alexi Drozd and Lana Fenkanyn will offer their insights into the war's impact. Joining them will be Mark Dillen and Anne Chermak Dillen. Mark and Anne were senior Foreign Service Officers with the U.S. State Department and have lectured and traveled extensively in Ukraine as Fulbright Scholars.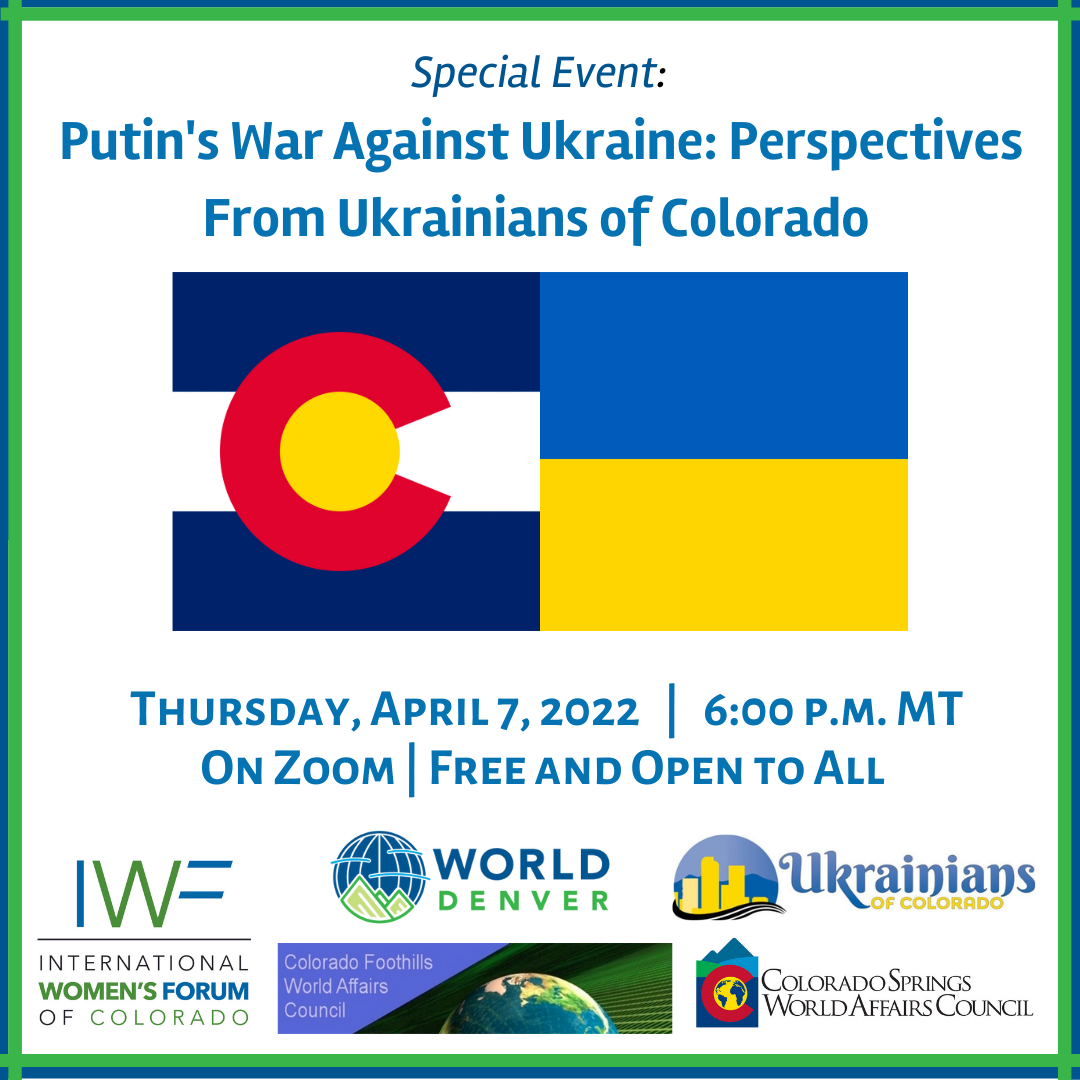 About Our Panel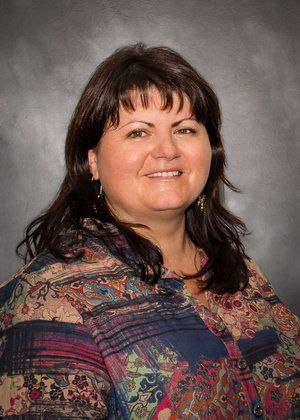 Irina Shatalov
Panelist
Irina Shatalov grew up in Ukraine and knew from a very early age that she wanted to work with and help people. She earned her master's degree in Psychology in Poland. In 2003, she moved back to Ukraine where she became a member of the European Association of Psychotherapists and worked as a school counselor. In 2010, Irina moved to the United States after marrying her husband. She is currently working as a supervisor for a company that provides services for the elderly and people with intellectual and/or cognitive disabilities. She is also involved with several volunteer projects and is a founder and a Board Member for Ukrainians of Colorado.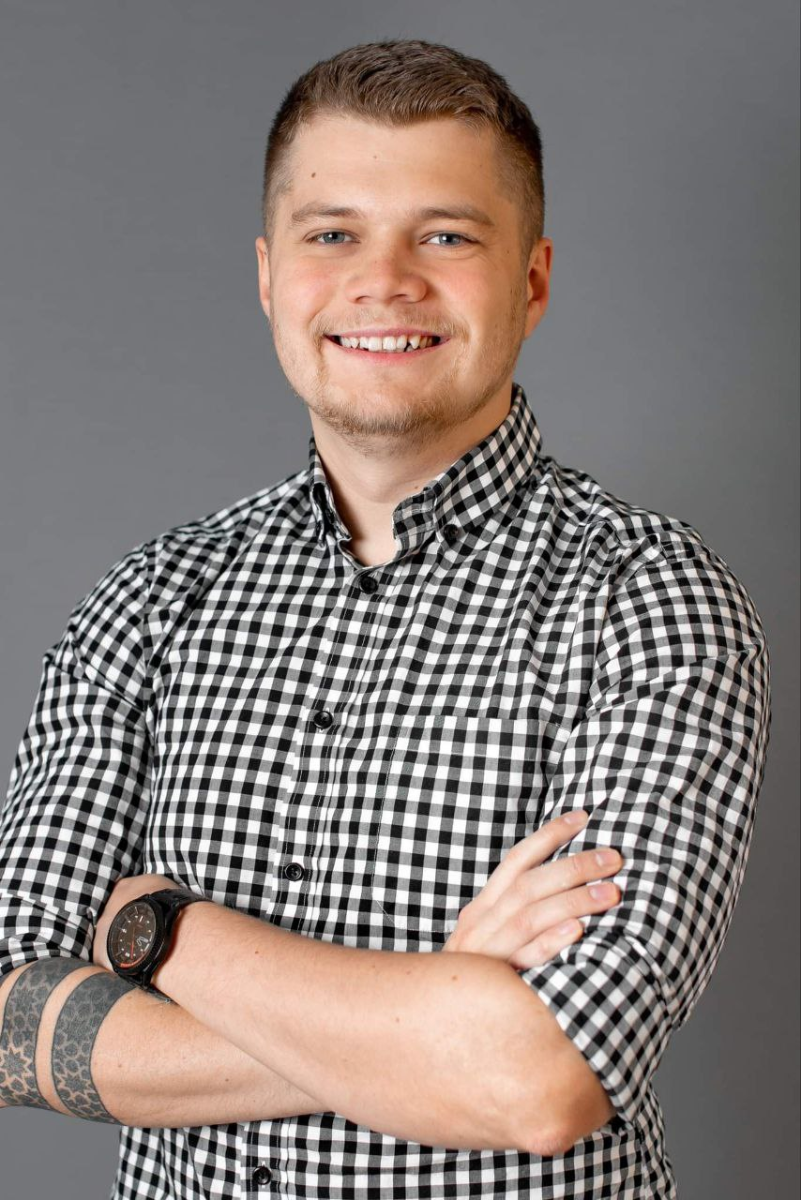 Alexi Drozd
Panelist
Alexi Drozd is a first-generation immigrant born in the capital city of Kyiv. Most of his family is in Ukraine - either fighting on front lines, defending their homesteads, or had to flee to western border. Alexi migrated to US when he was twelve and has lived in US for eighteen years. During his time in US he has become a mechanical engineer, owner of a small business, active member of local societies and non-profit organizations. Since the start of Putin's war in Ukraine, Alexi has been actively working to rally people, raise funds, and advocate for Ukrainians.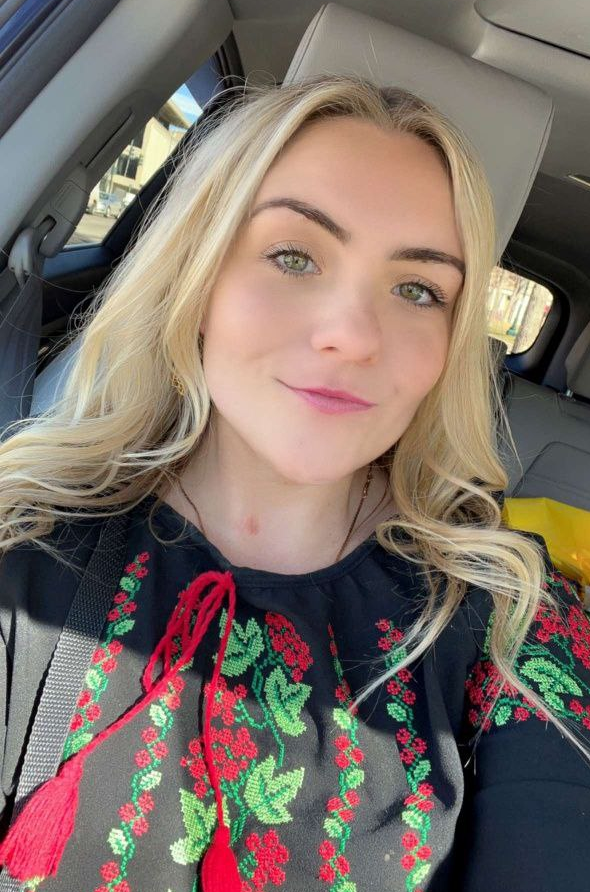 Lana Anastasya Fenkanyn
Panelist
Lana Anastasya Fenkanyn grew up involved in the Chicago Ukrainian community and continues to be involved here in Denver as the Social Media Manager for Ukrainians of Colorado. She received her Bachelor's Degree in Elementary Education and is pursuing a Master's Degree in Licensed Clinical Mental Health Counseling. Her cousins, aunts, uncles and great aunts are in Kharkiv, living in the same cellar where her grandmother lived during WWII.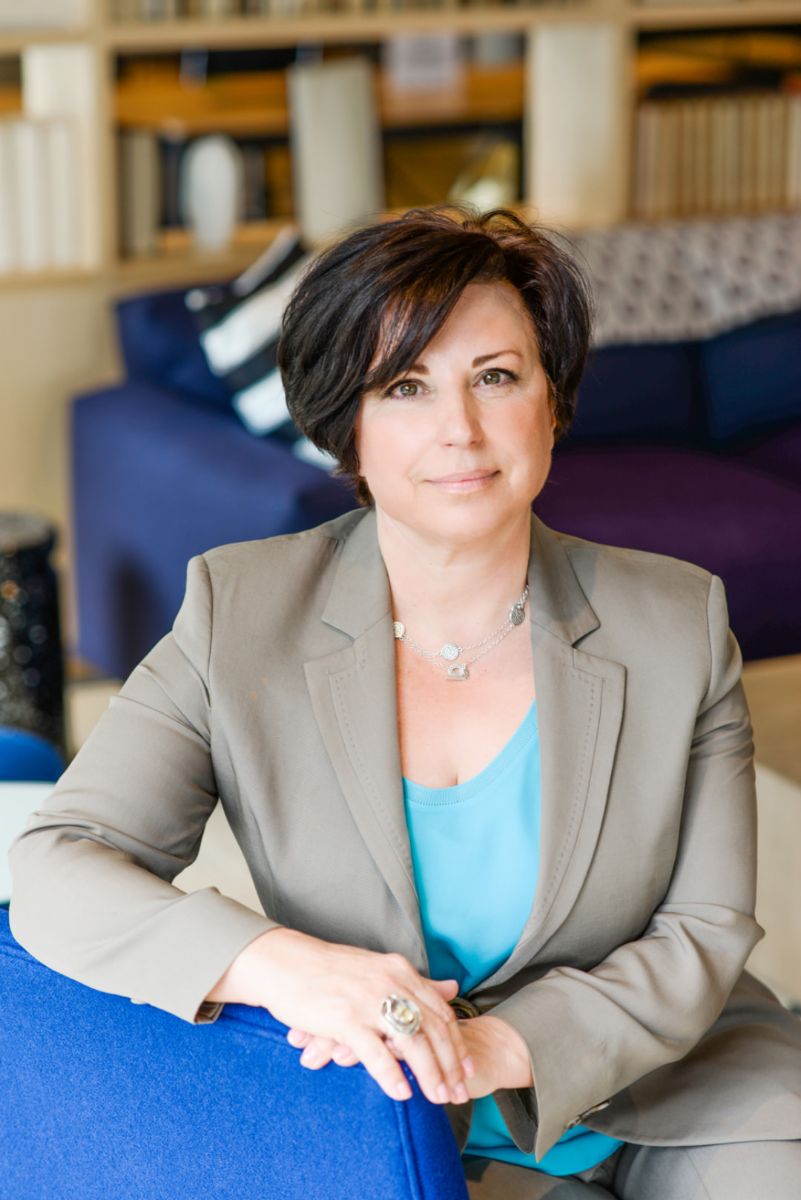 Marina Dubrova
Panelist
Marina Dubrova moved to the United States in 1994 to live with her grandfather. She currently owns a real estate brokerage. She co-founded Ukrainians of Colorado (UofC) with her coworkers in 2014 when the Russian invasion of Ukraine first began. Since the war started this year, UofC has grown exponentially and is aiming to make a meaningful impact in critical areas through fundraising and to help in the areas of critical necessity--currently by providing medicines/medical supplies, organizing, and working with the government.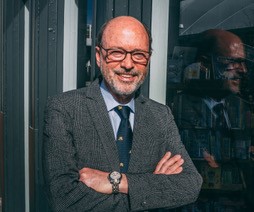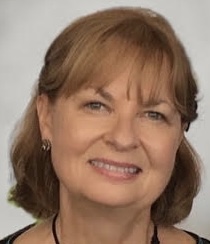 Mark Dillen and Anne Chermak
Moderators
Mark Dillen is a Denver-based media consultant, public affairs specialist and former State Department foreign service officer. Following journalistic work early in his career, Mark joined the Foreign Service to focus on Central and Eastern Europe. His postings included Moscow, Belgrade, Sofia, Rome and Berlin. As a Fulbright Scholar in Ukraine, 2017-19, he taught journalism at universities in Lviv, Zaporizhzhia and Uzhhorod. He returned to Kyiv late last year and was in Warsaw shortly after the start of the Russian invasion of Ukraine. He is now working to increase public understanding and support for Ukraine's resistance.
Anne Chermak Dillen, former senior U.S. diplomat specializing in public diplomacy, has served in U.S. embassies across Europe over a 35 year career. She is currently a diplomat in Residence at the University of Southern California's Center on Public Diplomacy, where she lecturs and consults on public diplomacy, international affairs and strategic communications in Europe and the U.S. She also served as Fulbright Scholar in Ukraine 2021-2022.
---
Note: As a nonpartisan convener of global affairs programming, WorldDenver provides an unbiased forum for experts, world leaders, diplomats, and representatives from the public and private sectors to share their expertise and views on a broad spectrum of issues that matter to the world. We aim for our events to inspire curiosity and further reading, discussion, and civic engagement among our members and the Denver community on the global issues that we present.