Experiencing Expos: World Expos Throughout History
06/21/2022 05:30 PM - 07:30 PM MT
Location
FLEMING MANSION
1510 S Grant Street
Denver, CO 80210

Description
Due to an emergency maintenance issue, the venue for this event has changed to the Fleming Mansion: 1510 S Grant Street.
Expos, also known as World's Fairs, are the world's oldest and largest mega event, held every three-five years in host cities around the world since their inception in 1851 in London. Similar to the Olympics, which are world festivals of sports, Expos are festivals of culture, technology, innovation, design, and human excellence. Past Expos have seen a multitude of countries showcase innovations such as the mobile phone, the X-Ray Machine, and the ice cream cone.
Join us for a conversation on a groundbreaking project that explores the history and future of International Expositions and the United States' role in them. The event will also feature voices from the U.S. Department of State and U.S. citizens who recently took part in the USA Pavilion at Expo 2020 Dubai.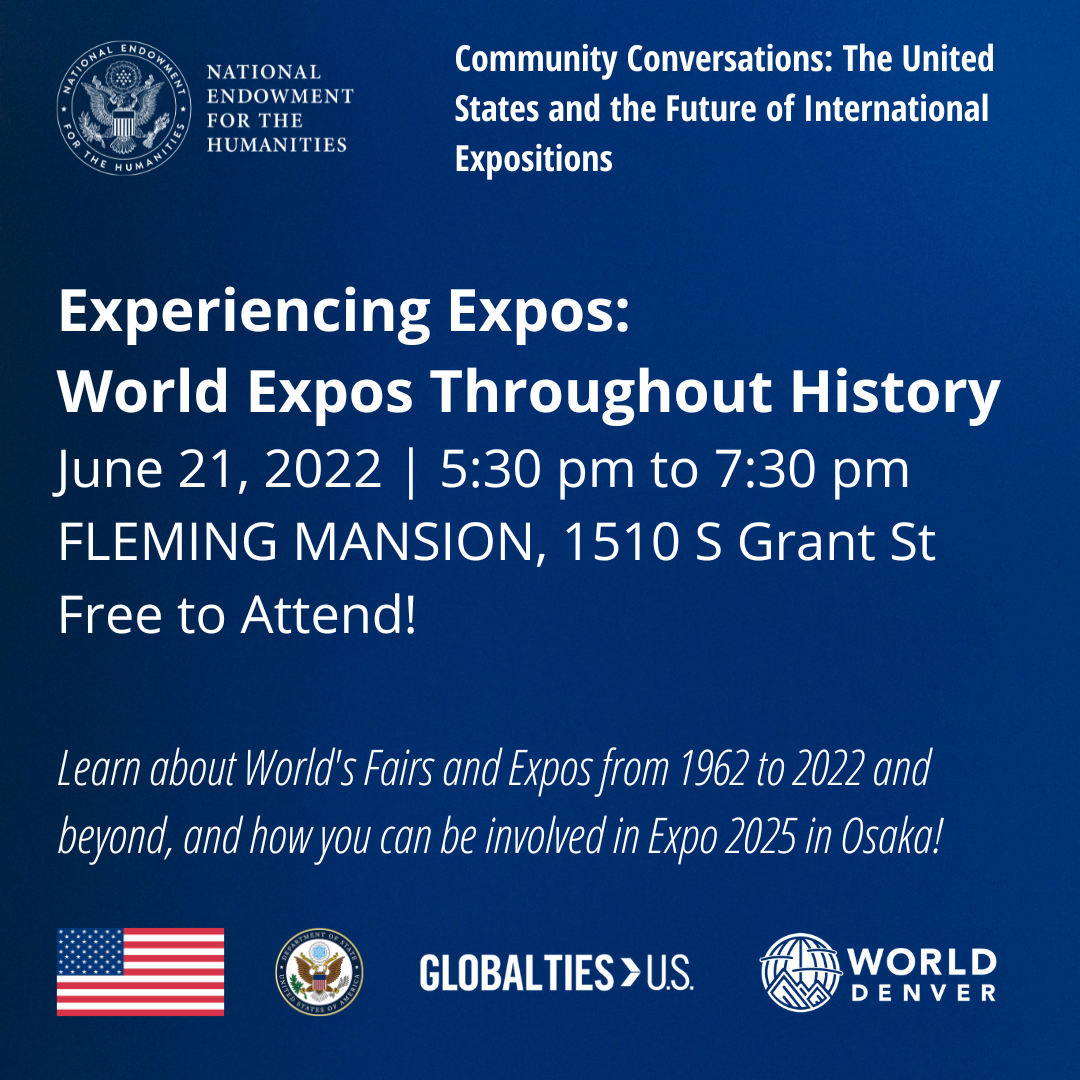 Though Expos have not captured many U.S. citizens' imaginations, for those who experienced the events within the United States and overseas the last sixty years, the experiences impacted simultaneously their worldviews and views of their communities. The physical legacies of Expos in New Orleans, New York, San Antonio, and Seattle—four of the last ones hosted inside the United States, between 1960-1984—are well established. But the "felt" legacies are underexplored and powerful. With geopolitics rapidly shifting, these soft power platforms are critical to illuminating U.S. values to international audiences. We also have an opportunity to rethink how we bring Expos back to the United States and do so in a more inclusive way that highlights our country's diversity as a strength of our democracy.
Event Agenda:
5:30 p.m. Registration and refreshments
6:00 p.m. Program and Q&A
7:00 p.m. Networking
7:30 p.m. Event concludes
Tickets:
Free and open to all!
*Due to the capacity of the building, event registration will close after 70 individuals.
~~~
About Our Speakers: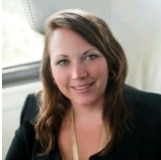 Kara Snesko
Speaker
Kara Snesko is the Senior Coordinator in the International Expositions Unit at the U.S. Department of State and was the project manager for the USA Pavilion at Expo 2020 Dubai. Kara is a veteran State Department public affairs leader with 15+ years of experience initiating and securing global strategic partnerships and managing large-scale events in Europe, Latin America, the Middle East and Africa. Most recently, she was the Deputy Coordinator for the Global Entrepreneurship Summit, a global gathering of entrepreneurs, investors, government and the private sector, co-hosted by the Government of the Netherlands in June of 2019. Kara also served as the Senior Advisor for the USA Pavilion at Milan Expo 2015, managing strategic communications and advising interagency partners on behalf of U.S. government with private sector partners for U.S. participation in World's Fair in Milan, Italy. She supported visits to World's Fair for First Lady of the United States, Secretary of State John Kerry, two Presidential Delegations, three Congressional Delegations, and five U.S. governors, coordinating across six government agencies and organizations. Kara previously developed and managed public-private partnerships to enhance specific foreign policy goals and objectives. Examples include partnerships with DirectTV, The Diplomatic Culinary Partnership with The James Beard Foundation, and Brand USA to promote travel and tourism to the U.S. Earlier in her career, Kara recruited top American experts and speakers in the fields of journalism, communications, culinary arts, media, science, social media and technology to conduct training and engage with international audiences.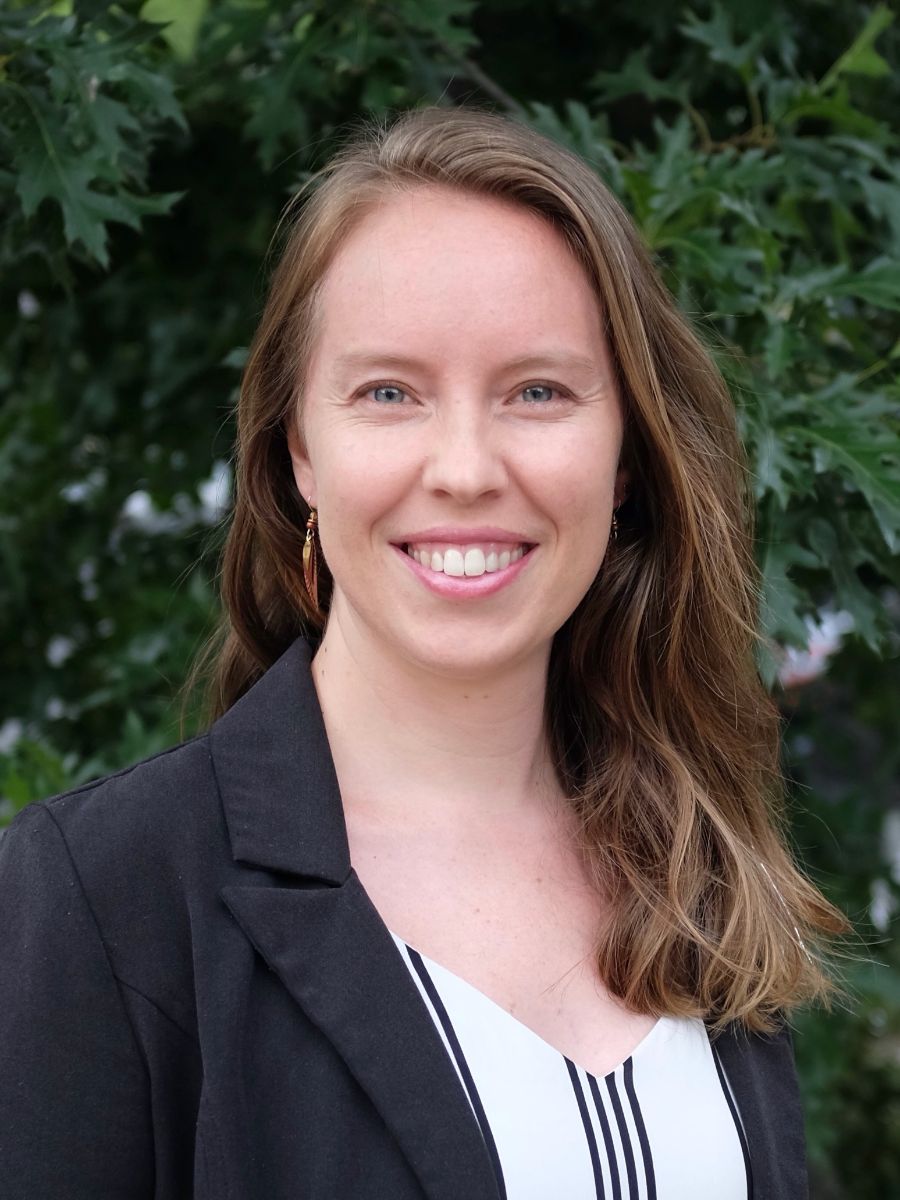 Anna Kaplan
Speaker
Anna F. Kaplan, PhD, (she/her) is a scholar and oral historian in Washington, DC. She earned her PhD in History at American University and MAs in Oral History and Anthropology at Columbia University, studying memory and race in the US South. She has worked on projects with the National Park Service, the DC Oral History Collaborative, and several Smithsonian Institution museums. In addition to working with Global Ties, US, to research the socio-cultural impacts of Expos, Kaplan is the oral historian documenting the history of the State Department's Cultural Heritage Office and the Secretary of State's Register of Culturally Significant Properties. In addition, she is an adjunct professor and Resident Public Historian at American University and the University of the District of Columbia. She also serves as Vice President of the Board for Oral History in the Mid-Atlantic Region and co-chair of the Oral History Association's Diversity Committee and the Equity Audit Task Force. This summer, Kaplan will present a paper on Ophelia Settle Egypt as another ancestor of oral history for the symposium "Assessing the Role of Race and Power in Oral History Theory and Practice."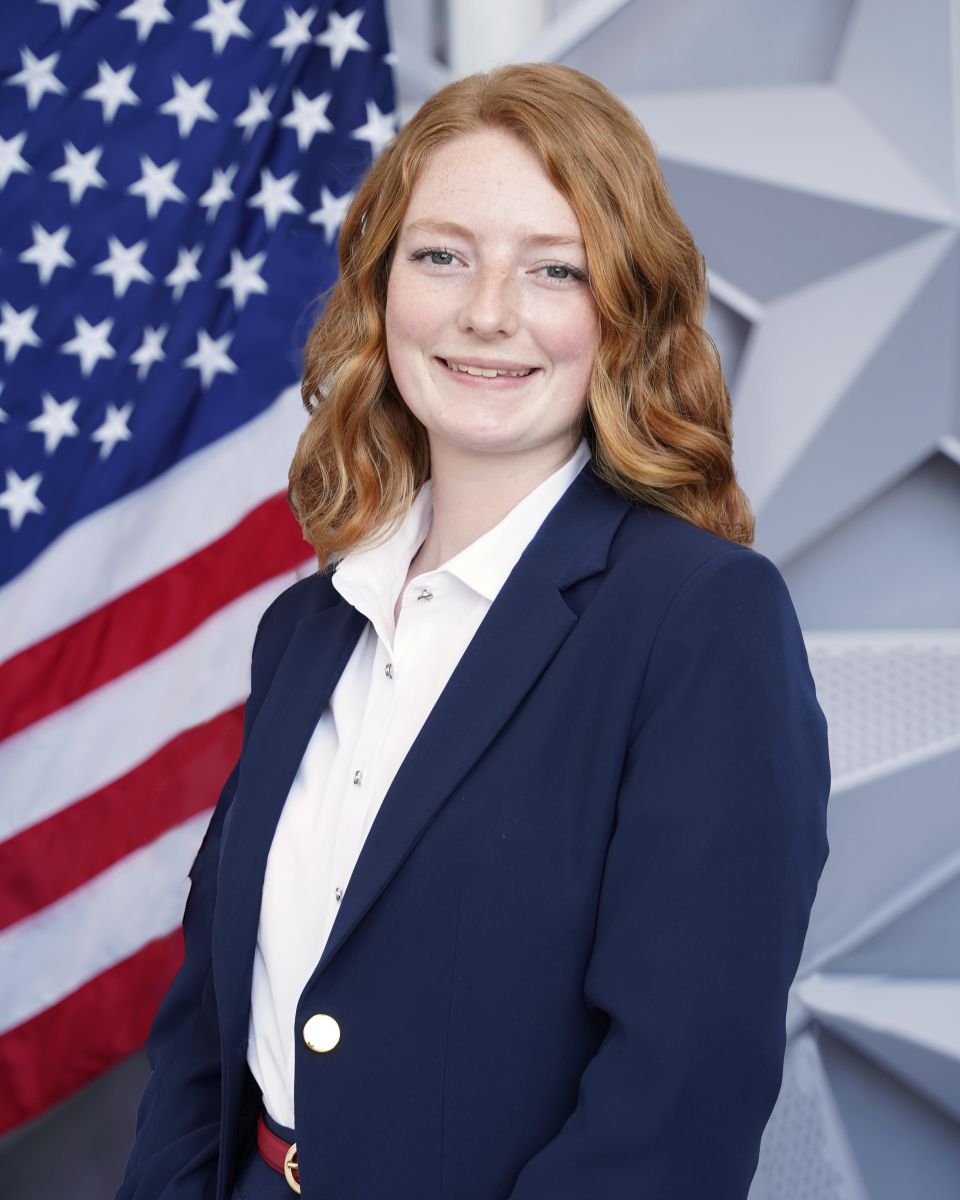 Emma Holdren
Speaker
Emma Holdren recently returned from serving as a Youth Ambassador at the USA Pavilion at Expo 2020 Dubai. During her time at Expo, Emma enjoyed interacting with visitors from all over the world and visited more than 100 country pavilions! Previously, she participated in the National Security Language Initiative for Youth scholarship program where she studied Arabic while living in Morocco. She is continuing her study of the Arabic language at Indiana University where she is an undergraduate student majoring in International Studies and Middle Eastern Languages and Cultures. This summer, Emma will intern for Legacy International where she will assist with the administration of the TechGirls summer international exchange program that inspires young women from around the world to pursue careers in science and technology. She is also a Critical Language Scholarship finalist for the CLS virtual programming this summer.

---
Note: As a nonpartisan convener of global affairs programming, WorldDenver provides an unbiased forum for experts, world leaders, diplomats, and representatives from the public and private sectors to share their expertise and views on a broad spectrum of issues that matter to the world. We aim for our events to inspire curiosity and further reading, discussion, and civic engagement among our members and the Denver community on the global issues that we present.