Global Challenges: What's at Stake for the U.S. and the World in 2023?
01/11/2023 06:00 PM - 07:45 PM MT
Location
CU Denver Terrace Room
1380 Lawrence St
Denver, CO 80204
Room Number: 2nd Floor
Building Number: Lawrence Building

Description
Registration for this event is closed. Stay tuned for more events in 2023!
Back for a third annual stage-setting conversation, Drs. Marie Berry and Dominic Tierney will take us beneath the headlines on what's at stake for U.S. foreign policy in 2023. Halfway through President Biden's term, the U.S. is poised at the crux of multiple global conflicts and crises. From mass protests and human rights abuses in Iran to Putin's belligerent endeavors in Ukraine and China's looming threat to democracy in Taiwan and elsewhere, the Biden Administration's action or inaction on several fronts will have ripple effects on the global order. Is the administration up to the challenge? How will the midterm elections and an even more divided U.S. government influence policy-making, and how will domestic politics around immigration and climate change impact our standing in the world? Join us on January 11th to hear from the experts and ask your pressing questions.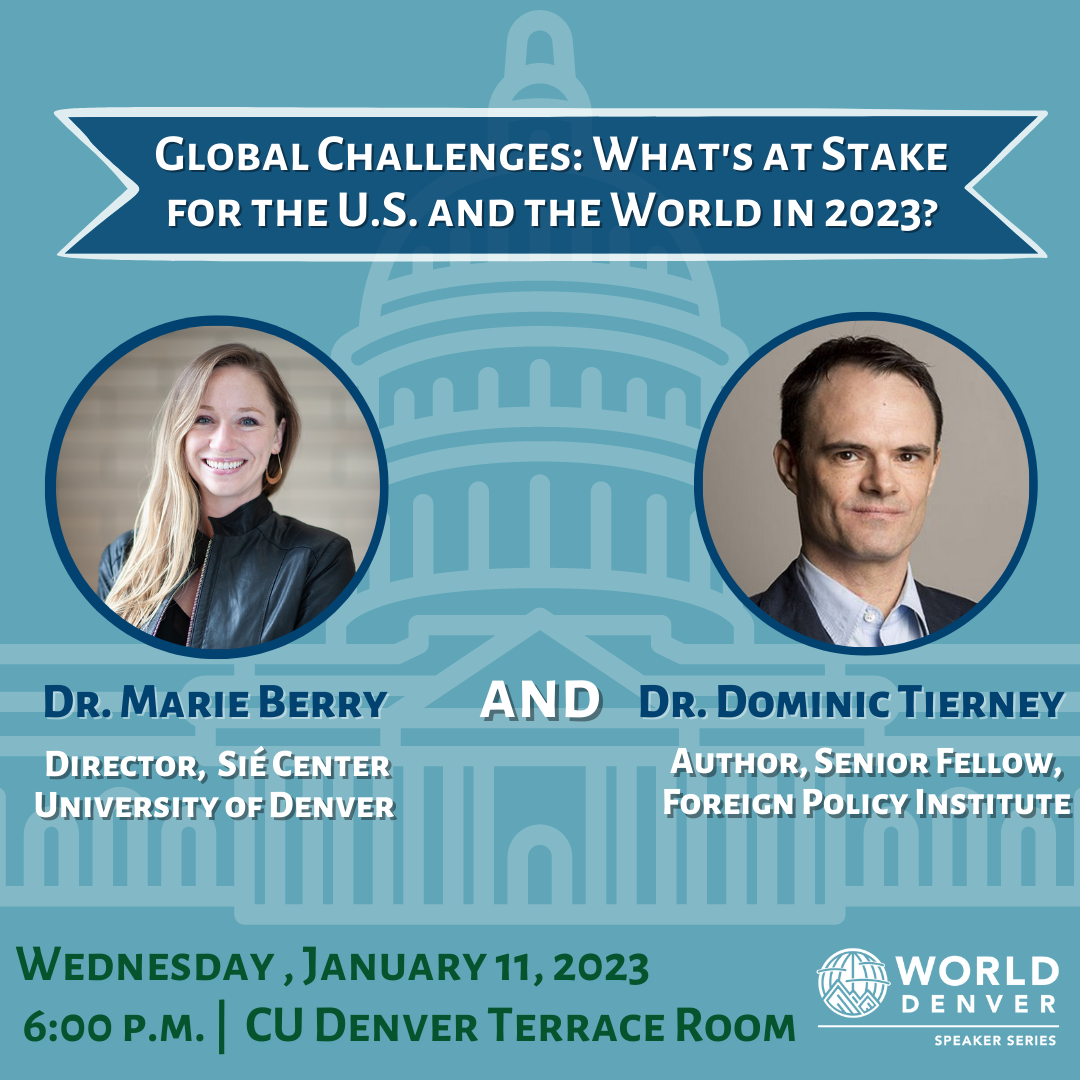 Event Agenda:
6:00 p.m. Registration, networking and hors d'oeuvres
6:30 p.m. Speaker presentation & audience Q&A
7:45 p.m. Evening concludes
Tickets:
$35 for Future members
$25 for WorldDenver members
$10 for YP members
Don't Forget to log into your account !
About Our Speakers
Dr. Marie Berry
Director, Sié Center and Associate Professor, University of Denver
Dr. Marie Berry i​s the Director of the Sié Chéou-Kang Center for International Security and Diplomacy and an Associate Professor at the Josef Korbel School at the University of Denver. She is also the co-founder and convener of the Inclusive Global Leadership Initiative (IGLI), an effort to elevate and amplify the work that women activists are doing at the grassroots to advance peace, justice, and human rights across the world. As a sociologist, her research focuses on violence, gender, and politics.
Her award-winning first book, War, Women, and Power: From Violence to Mobilization in Rwanda and Bosnia-Herzegovina (Cambridge University Press 2018), examined the impact of mass violence on women's political mobilization in Rwanda and Bosnia. Together with Dr. Milli Lake (LSE), she runs the Women's Rights After War Project. Dr. Berry's work has been published in places like the Annual Review of Law and Social Science, Gender & Society, Democratization, Signs, New Political Economy, Mobilization, Politics & Gender, Foreign Policy, Boston Review, The Monkey Cage, and Political Violence @ A Glance. She is a 2021 recipient of a prestigious National Science Foundation CAREER Award.
Dominic Tierney
Senior Fellow - National Security Program, Foreign Policy Research Institute
Dominic Tierney is professor of political science at Swarthmore College, a senior fellow at the Foreign Policy Research Institute, and a former contributing editor at The Atlantic.
He completed his PhD in international politics at Oxford University in 2003, and was a post-doctoral fellow at the Mershon Center at Ohio State University and the Olin Institute at Harvard University before coming to Swarthmore in 2005. In 2008-2009, he was a research fellow at the John F. Kennedy School of Government at Harvard.
His published books include:
Failing to Win: Perceptions of Victory and Defeat in International Politics (Harvard University Press, 2006), with Dominic Johnson, which won the International Studies Association award for the best book of the year, and was nominated for the best book of the decade.
FDR and the Spanish Civil War: Neutrality and Commitment in the Struggle that Divided America (Duke University Press, 2007), which was described by Diplomatic History as "a model of superb diplomatic history."
Tierney's latest book is The Right Way to Lose a War: America in an Age of Unwinnable Conflicts (Little, Brown, & Co., 2015), which was reviewed in the Wall Street Journal, featured on MSNBC and NPR, and excerpted in the Atlantic.com and Salon.com. In Foreign Affairs, Lawrence Freedman described the book as "brave and interesting."
Tierney's work has also appeared in The New York Times, The Los Angeles Times, NPR, and various academic journals.
Click on the books below to purchase your copy!
Tickets:
$35 for Future members
$25 for WorldDenver members
$10 for YP members
Don't Forget to log into your account !
Note: As a nonpartisan convener of global affairs programming, WorldDenver provides an unbiased forum for experts, world leaders, diplomats, and representatives from the public and private sectors to share their expertise and views on a broad spectrum of issues that matter to the world. We aim for our events to inspire curiosity and further reading, discussion, and civic engagement among our members and the Denver community on the global issues that we present.