Clues & Cocktails: A Globally-Inspired Scavenger Hunt
05/31/2023 06:00 PM - 08:30 PM MT
Location
McGregor Square
1901 Wazee St.
Denver, CO 80202
Room Number: Check-in in front of Milepost Zero

Description
The WorldDenver Young Professionals present...
The World in Denver is all around
But you must find it in Downtown
After the hunt, come to the Square
Where we'll enjoy delicious fare
The scavenger hunt will begin at McGregor Square at 6:00 p.m. where our teams will receive their first clue. Come prepared to walk approximately 1.75 miles as you adventure through Lodo & Ballpark. Bring a friend or come solo! Teams of 2-4 will be paired at check-in.
Once you complete your quest, return to McGregor Square for the social! Prizes will be awarded to our scavenger hunt heroes and light apps will be provided for all.
Scavenger Hunt Schedule
6:00 p.m. | Team registration & check-in @ McGregor Square
6:30 p.m. | Registraiton closes - all teams are off!
7:15 p.m. | Social begins @ McGregor Square
8:30 p.m. | Evening concludes
If you can't make it for the scavenger hunt but still want in on the fun, you are welcome to come straight to McGregor Square at 7:15 p.m. and join us for the social!
Tickets:
$9 for WorldDenver Members
Log into your account here!
$14 for Future WorldDenver Members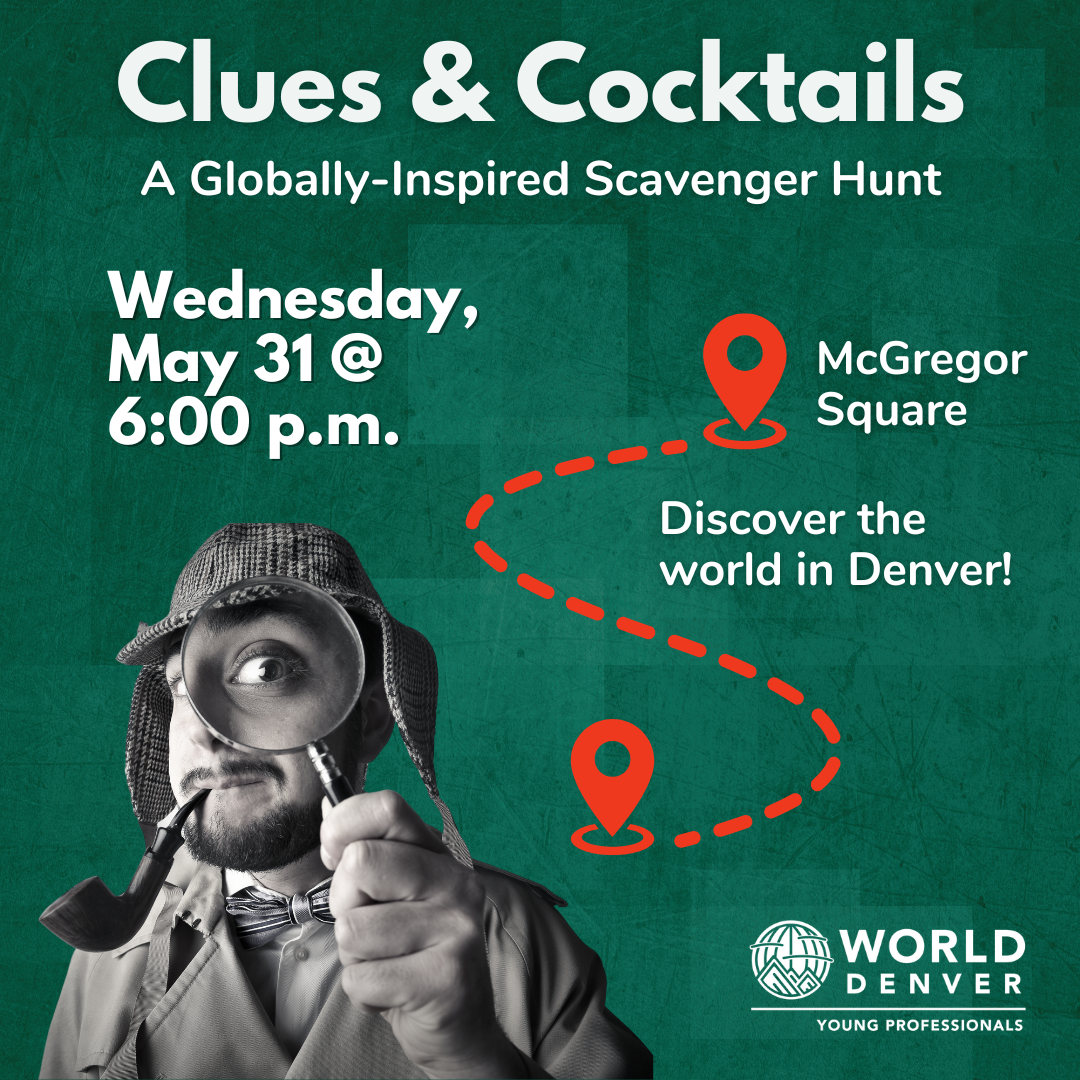 ---
Note: As a nonpartisan convener of global affairs programming, WorldDenver provides an unbiased forum for experts, world leaders, diplomats, and representatives from the public and private sectors to share their expertise and views on a broad spectrum of issues that matter to the world. We aim for our events to inspire curiosity and further reading, discussion, and civic engagement among our members and the Denver community on the global issues that we present.