Imperfect Advocacy with Graham Zimmerman, Professional Climber and Alpine Ambassador
10/26/2022 05:30 PM - 07:30 PM MT
Admission
$20.00 - Future Member Ticket
$25.00 - 2-Part Series Ticket (Oct. 26 & Nov. 9)
Location
BOA Technology Inc.
3575 Ringsby Ct Unit 200
Denver, CO 80216

Summary
Alpine ambassador, Graham Zimmerman will share his story of success in the high mountains around the world and his subsequent journey to use those stories to drive global sustainability efforts.
Description
Graham Zimmerman has spent most of his life traveling the world in search of challenging, unclimbed mountains. It is a journey that has taught him about himself and some of the world's most rugged landscapes. It has also clearly demonstrated to him that climate change is a pressing issue that the global community must solve.
In conversation with Maria Gonzales, Graham will tell his story of success in the high mountains and his subsequent journey to use those stories to drive climate policy. And he will share with you how you can do the same.
Event Agenda:
5:30 p.m. Event check-in and light refreshments
6:00 p.m. Speaker conversation & audience Q&A
7:00 p.m. Network and connect with Maria and Graham
7:30 p.m. Evening concludes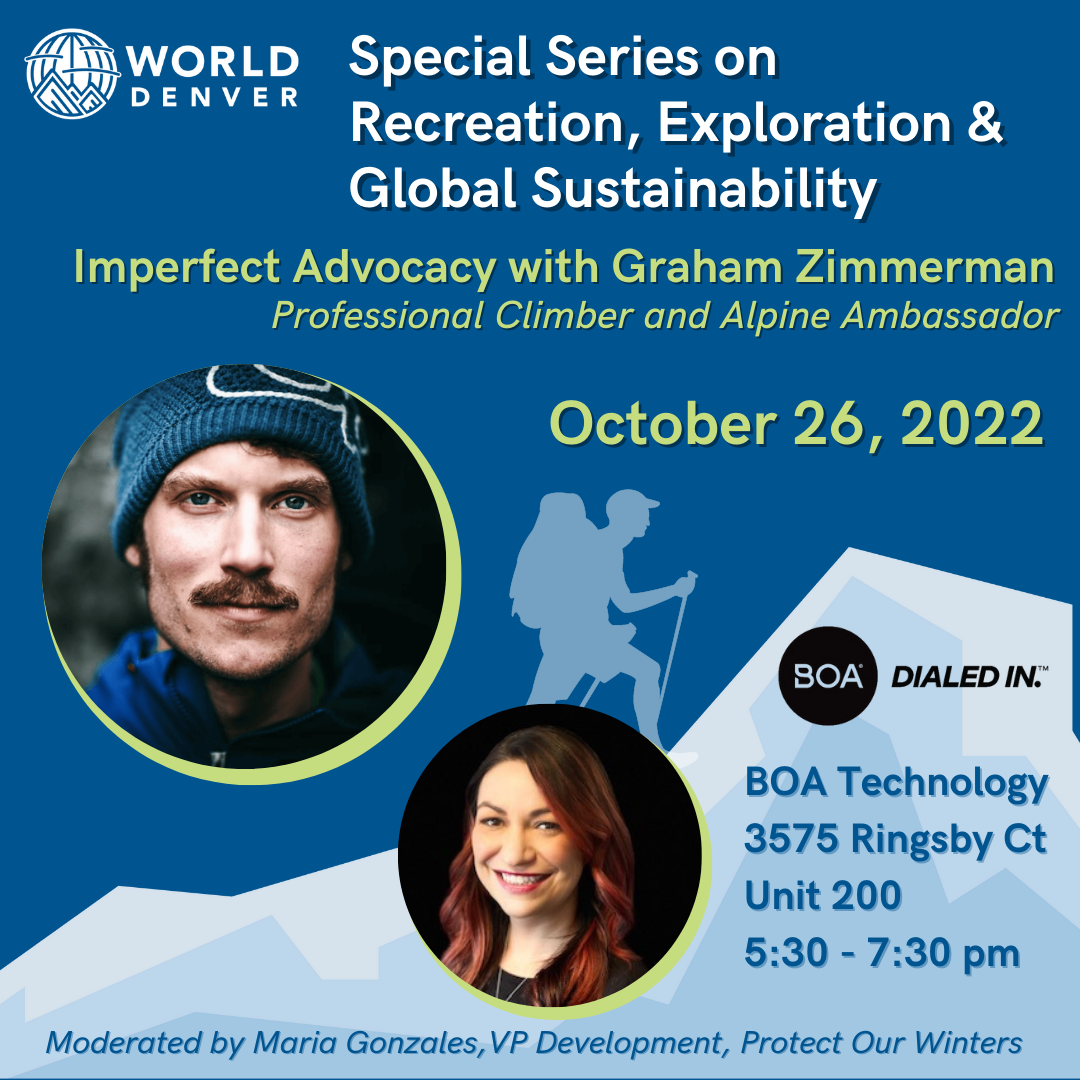 Tickets:
$20 for non-members
$10 for WorldDenver members
Be sure to log into your account!
$5 for WorldDenver Young Professional members
SPECIAL: Register for BOTH events of the "Special Series on Recreation, Exploration and Global Sustainability" (see Part II on November 9th here)
$15 for members and $25 for non-members

---

About Our Speaker:

Graham Zimmerman
Professional Climber and Alpine Ambassador
Zimmerman has climbed new routes in the Pakistani Karakoram, shot films on the volcanoes of the Atacama desert, testified to the US Congress on climate policy, and successfully led projects with brands and organizations, including POW, REI, DirectTV, and Outside.
As an alpinist, he holds leadership roles in various organizations, including the president of the American Alpine Club. He has won several prestigious awards, including the gold medal of alpinism (the Piolet d'Or) for first ascents on four continents.
Outside of climbing, he is a multi-disciplined content expert who excels with complex logistics and strategy. He thrives under pressure while utilizing clear communication and management. The outcome is excellence in marketing through a symbiosis between athletes, influencers, scientists, creatives, policy wonks, and content programs.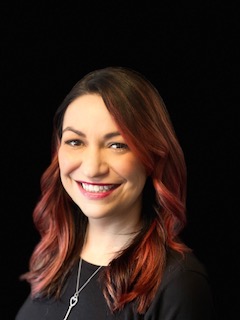 Maria Gonzales
VP, Development, Protect Our Winters
Maria grew up in the high desert of Santa Fe, New Mexico and spent her childhood summers traveling with her family to explore and adventure on our public lands. Winters growing up were spent at Santa Fe Ski Basin with classmates. Santa Fe National Forest is still one of her favorite places to play. Although originally from Santa Fe, she relocated to the Rocky Mountains from Washington, D.C. after living there for almost a decade. Maria's time in D.C. was spent exploring her passion for policy work and growing her skills in the nonprofit sector. After leading development and social enterprise initiatives at Catholic Charities USA she transitioned to the Center for Strategic and International Studies (CSIS). There she worked hand in hand with fortune 100 multinational corporations as well as individual donors who had deep rooted interests in foreign policy with an emphasis on Asia. Most recently she served as the Chief Advancement Officer for the American Alpine Club where she led the Club's fundraising department, developed organizational strategy, and expanded and resourced the grants program. Maria holds an M.A. in Political Science, a B.A. in Political Science, and a B.A. in Journalism from Arizona State University. She also has a Certificate in Nonprofit Management from Georgetown University. As a member of the POW team Maria is thrilled to align her passion for the outdoors and climate advocacy with her professional work. In her free time, she can be found gardening, camping, hiking, boating, and adventuring with her husband and two rescue dogs, Apollo and Olivia.

---
Note: As a nonpartisan convener of global affairs programming, WorldDenver provides an unbiased forum for experts, world leaders, diplomats, and representatives from the public and private sectors to share their expertise and views on a broad spectrum of issues that matter to the world. We aim for our events to inspire curiosity and further reading, discussion, and civic engagement among our members and the Denver community on the global issues that we present.